Suzanne Giesemann- expanding awareness and training evidence-based mediumship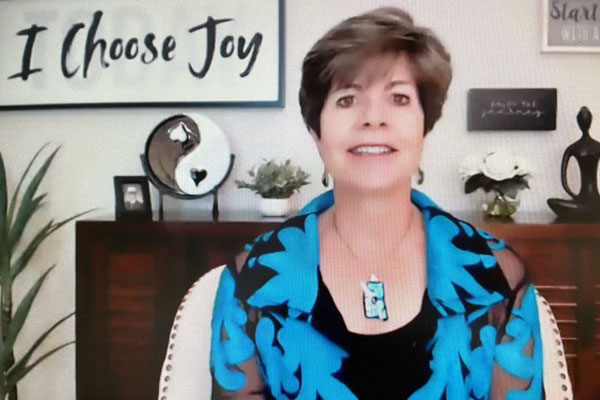 In her online courses, Suzanne shares insights, stories, and corroborating evidence that prove that as an evidence-based medium, she receives messages for her sitter from loved ones who have passed on. When she conveys some particularly striking evidence that she would have no way of knowing, she laughs in delight. And I can't help but grin with her.
Prior to the tragic passing of her beloved stepdaughter Susan, Suzanne had no direct experience of mediumship. Her book Messages of Hope describes her journey from her remarkable career as a commanding officer in the Navy, and aide to the Chairman of the Joint Chief of Staff, to her training to become an evidence-based medium.
As a medium, her main goal is to comfort those grieving the loss of a loved one. By knowing through irrefutable evidence that your loved one exists beyond death and can communicate with you, sitters often experience profound healing. Unlike my teacher Eloise Page, Suzanne was not aware of any innate psychic abilities while growing up, only developing her skills after retiring from the Navy. So it is no wonder that for her, anyone with a genuine interest and with the dedication of time and effort can learn to become an evidential medium or get messages from loved ones who have passed. 
I attended a number of her monthly online mentoring sessions. These are intended primarily for those who are studying to become mediums or who are practicing mediums. I also attended her events to raise money for charities before taking her online course, Expand Your Innate Mediumship Skills with Soul-to-Soul Communication. 
What marvelous eight sessions with her! Suzanne is always meticulous in her presentation and her appearance. She is very punctual and comes to each session fully prepared with pages of notes to share with us. And her laugh is pure delight! What I find delightful is how she includes stories about her husband Ty, their miniature dachshunds, with relevant anecdotes from their lives, as well as those of her charming assistants Lynette Setzkorn and Beverly Garlipp. They all make me feel like family, so heart-warming! So, of course, I had to attend her weekend intensive called Personal Mediumship, which is now offered online through her website (www.suzannegiesemann.com).
One of my great pleasures in listening to Suzanne is her complete honesty. At times, she will say something and her guides in Spirit correct her or give additional information. If a participant asks a question, she may turn to her guides and ask for more information. Even when she was grieving the passing of her beloved dachshund of 16 years, she was honest about the process while not projecting her grief onto her audience. In a word, Suzanne is real.
Her guides in Spirit, whom she was told to collectively call Sanaya, convey teachings about the nature of our soul, our existence, and about expanding our awareness. Some of my favorite sessions are when she channels Sanaya directly. You can see the shift happen in her face; her voice and manners change, and the wisdom that pours through is profoundly inspiring and thought-provoking, which is why I listed her as a spiritual teacher on my website.
Suzanne manifests JOY in action, whether thrilled by helping others in readings while connecting with valid evidence to loved ones across the veil or explaining the nature of our soul, our existence in a lucid manner. She was told to call God or Oneness or Source or the Divine by the simple and very apt word Joy. I especially like this concept since it makes all the information that comes through her accessible to adherents of all religions.
Suzanne's standard of excellence in her presentation and appearance, determination to improve her abilities, impeccable honesty, sense of humor, and most of all, her contagious JOY are the reasons why I am delighted that Suzanne, along with Lynette and Bev, are now part of my life.